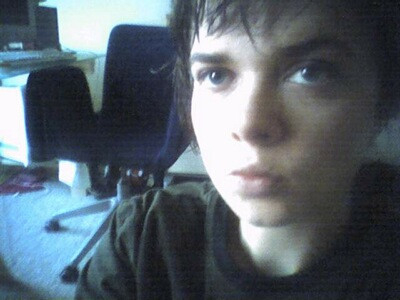 i made
this iMix
4 u:
belle and Sebastian "i fought in a war"…
here's a mix i made to explain to you where i'm at in this post-9/11 and post-fraudulent historical moment. this long, Night of the Living Un-Ironic that we've been suffering through. by putting this song on first, i'm layin out the hope that this highly idealistic and slightly introspective collection of tunes can cut thru the bullshit and give it to you the way it really
feels
, so u know how i've been shakin thru my days and have been too busy fighting the windmills of my mind to call or drop u a line...
straight up, tho--i'm a huge belle and Sebastian fan. gotta love a bunch of pasty, thirty-something scots who write songs from the perspectives of lonely teenagers. i saw them when they played prospect park last year. i bought a tea towel with the band's name on it. it's a map of Scotland with icons depicting the major industries in each area. it's the kind of thing you'd find in a school textbook, which is probably where they got it from...lots of bottles with a W on them and black cows lying down in patches of grass…
massive attack "unfinished sympathy"....
this song is totally off-the-hook dramatic—it's the perfect mix of house melody and hip-hop beats. the toy piano kills me every time…this song always takes me back to the damp, dark year that i lived in england. i used to bring down the house with this when i djed around oxford. i think this group is one of the coolest that ever came out of that country. they've got that deep voiced, leather pant swagger like the animals, or the rolling stones in the late sixties, when they danced around on drugs with their shirts open and their skinny white chests out for all the world to see. incidentally, during the gulf war the bbc banned massive attack records because of their name. "You're the book that I have opened, and now I need to know much more"--it's crazy that years later the lyrics are more relevant to me than they ever were.
mix master mike "fur coat"…
this guy's on my top ten djs of all time list. absolutely. i so totally sweat how he incorporates his own distinctive style to everything he does—that lurching psych-rock, skate-punk, orange soda, drive-thru movie
thang
. the way he switches back and forth between beats is hypnotic. mix master mike is from the California in MY MIND. i don't know if he really is from out there, but his shit's the very ESSENCE of what i fantasize the west coast to be about. i've said it before—sometimes i feel like my future lies out there…i'll make a new start, with a new name…btw, this is about the point in the mix when you spark up the american beauty, if you haven't already. ya know—catch a fire, bun a dun, pass the dutchie from the left hand side…whatevs.
my bloody valentine "sometimes"…
when i first heard this it was on a cassette i bought used and i thought the tape was fucked up. i was pissed, but something told me not to shut it off and by the time this song came on i realized it was
supposed
to sound that way. it's funny because now, nearly ten years later, i'm still listenin to that shit and it's beyond me to even FATHOM how i could have ever thought anything was wrong. each note sounds perfect to me—perfectly placed, executed and produced, like a miles davis track…
i don't care who you like or what kind of music yr into--everyone should own the album loveless.
cream "badge"…
in my mind, this song plays during the crucial scene in the best movie ever, which has yet to be made but includes a Buick Riviera and winding rain-coated, suburban streets, complete with blue streetlights and piles of beautiful, multicolored fake leaves in the gutter…
the song kicks in the exact second the protagonist turns off her headlights and then cuts the engine as she rolls incognito into a gravel covered parking lot, looking this way and that, straining her eyes, tryin to see if there's anything out there…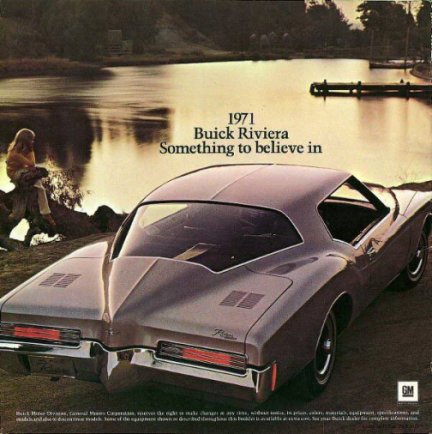 interpol "leaf erikson"…
brooklyn scenesters, but a serious cut above the rest--and they dress well. i know it's awfully nostalgic of me, but i prefer my musicians
hip
. this entire album is brilliant. it was the first thing i listened to that really felt like young new york after 9/11…all that jaded longing that comes after the greatest tragedy of your time leaves you unscathed and strangely unaffected.
the rolling stones "miss you"…
"i guess i'm lyin to myself…it's just you and no one else…" man, mick jagger sounds so incredible when he sings that line…like he's overcome with longing and he finally can't take it anymore. he's stopped his swagger and fallen to his knees.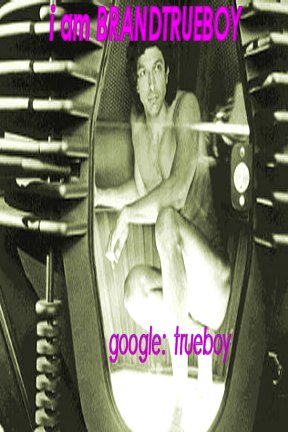 the walkmen "138th street"…
this song is a lament to a long lost friend, and for me, the sentiment extends also to a certain time and group of people…i went to college with these guys and their infamous ex-lead singer, who was the same year as me. back in the day they were jonathan fire*eater, and everyone who knew them knew they were going to be famous. stewart, the lead singer, was especially charismatic. he had that thing—call it a look or a cinematic glow or something. maybe it was the smack, which he couldn't stop using. i knew some of his friends but not him, not really. they showed me the poetry he banged out on his dirty typewriter (so that the 'e's and 'u's had ink smeared in their open spaces) and i was too awestruck by what i read to say much more than, 'hi'. for all his rock star antics, it seemed like he was shy, too—although maybe that's just me, projecting. he wrote about johnny cash and children in huge, old cars and floating lipstick kisses and southern daughters, jesus and telephone wires…all motifs i intended to steal, as soon as i got far enough away from that school and from him. anyway, jonathan fire*eater were hard at work payin their fuckin dues, going on shitty mini-tours in a van and playing the 3AM slot at the continental, among other dives, until suddenly and unexpectedly the steven spielberg mega-label dreamworks came round and offered them a million dollar contract. they signed, accompanied by a music press hoopla that designated them as the next big thing…a year later they were broken up, the contract and their friendships were in shambles and the album that was to end all albums was only so-so. was it the hype? the money? the pressure to
bring
it? who knows. like i said, they weren't my friends. i was just nearby, at the party… a face in the crowd. all i know is that stewart escaped from rehab and left the tristate area for several years, during which time the rest of the band reformed as the walkmen. i think they wrote this song about him.
elliott smith "needle in the hay"…
the royal tenenbaums is a great flick and the suicide scene when this song plays is really beautifully filmed. the fact that elliott smith actually killed himself recently (by stabbing himself in the chest) adds a level of poignancy, but when all is said and done you can't deny that it's a great song, in and of itself.
the clash "straight to hell"…
i tell this story about myself, in which i'm conceived while the clash are playing. i've told it so often i almost believe it myself. this was the first clash song i ever heard. to me, it always has been and always will be perfect. not even as a song anymore, but as a way of being—and i'm not talking about the trajectory of literally going straight to hell, although i guess that plays into it too: "Water froze, in the generation. Clear as winter ice. This is your paradise. There ain't no need fer ya. (There ain't no need fer ya.)"
earth, wind and fire "that's the way of the world"…
i bought this off an iMix by crystal method. the one dude described it as a beautiful song and it was enough for me…so you see it works, this whole selling individual tracks as parts of a whole. btw, the dude was RIGHT. the song IS beautiful.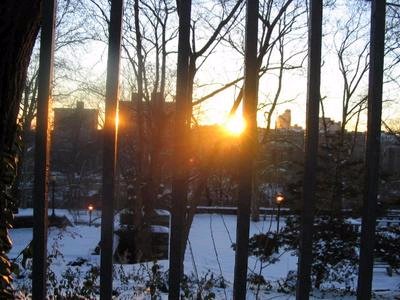 portishead "glory box"…
this group specialized in making music for films that didn't exist. it was a bunch of dudes and this patrician looking, straight-haired
lady
as a lead singer, who belted out songs of love, lust and loss…there was definitely something hot about her looking so repressed and singing so slutty…there are lots of little details on a portishead track—like samples of imperfections in records, or a needle pop used as percussion…
i like when u can get lost in details, as u dream yrself the star on the big screen of yr mind…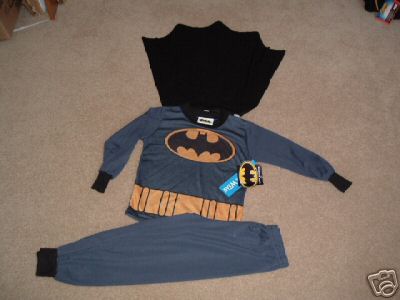 public enemy "by the time i get to Arizona"…
chuck d once said that hip-hop was a certain feeling—an expression of the angst one has at being born onto the so-called "wrong" team of life. this 'hip-hop feeling' wasn't limited only to rap. according to him, nirvana was just as much hip-hop as public enemy—both groups were raw and in yr face and unapologetic. it made an impression on me, when I heard him say that, and although i agree with him about that feeling, "by the time i get to arizona" IS the kind of hip-hop track that makes you realize just how incredibly ELECTRIFYING the form can be when presented at its PUREST level. beat is for yoko ono, beat is for sonny bono, but "by the time i get to Arizona" is one of those songs that a certain segment of the population remembers exactly where they were and what they were doing when they first heard it. i was on the highway in new jersey, in the back seat of this guy's car, stuffed like sardines with other people from my high school. it was winter, we had on puffy jackets and the windows were fogged. i remember he had a digital speedometer and the dashboard glowed blue green as he pumped this through his thousand dollar system (which was a fuck lot of money when yr 15 and broke)…i've always been a PE fan but DAMN. talk about music that makes yr nipples hard—how about that break down in the middle with the chorus of screaming and the dark, subterranean beats?…shit, PE's producers weren't called the bomb squad for nothin'…we drove thru back roads and projects, and i wrote the name i used then in big bubble letters on the window…a short while later there was the mtv video that got banned, cuz it depicted the members of the group acting out an assassination on the governor of Arizona.
crosby, stills, nash and young "ohio"…
as a little girl i loved to listen to music with my father up in the attic that was his office. it was one of my favorite things to do. records, 8-track and cassettes—he had the whole set-up. he was a big fan of these four guys, but at the time i didn't really connect with any of their music except this song. it's an angry reaction to how the police murderously opened fire on a crowd of kent state college students protesting the vietnam war. four people were killed and others were wounded. i remember lying on my back and looking up at the wood rafters with the line, "ten soldiers and nixon coming, we're finally on our own" turning over and over in my head…
"they were just kids," my father said, which made me wonder, because i thought i was just a kid.
were the police going to shoot me too?
the hives "die, all right!"…
nyc punk rock from sweden-- "too messed up to even mess around…we seem so alive, but when it comes to death we're gonna die, all right! we're gonna die! we're gonna die! but not...right…NOW!"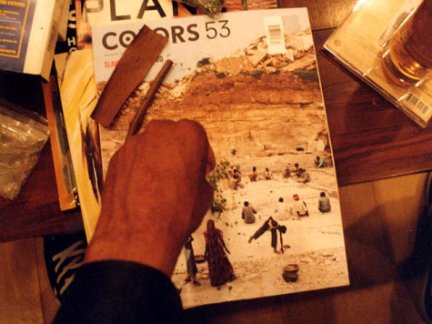 nada surf "hi speed soul"…
i want to "all skate" to this.
beck "paper tiger"…
the story is that beck's girl broke up with him and threw him into a soul searching depression, the result of which was this album, sea change. some people thought that he lost his game and wussed out, but i think it's the best thing he ever did. maybe it's because i was never a huge fan of his other stuff. that stoner, space cadet wit of his always got on my nerves-- although i did like some of the jams he put out with the dust brothers. but this is different…sea change is filled with tracks like this one, a big mural of a song, painted with bright, cinematic colors. the style recalls the 60's pastiche of the first song of the mix--belle and Sebastian's "i fought in a war"…which nearly brings us full circle…
that's right. in the TRUEBOY world every ending is a beginning…especially when all u have to do is press play again…
i like the idea of making iMixes that fit on CDs, so folks can burn them for friends. there were two extra songs that weren't in the iTunes database but are included on certain handmade hardcopies that i may get around to making, complete with one-off, painfully artsy covers.
thank-u for reading/listening.
-TRUE
email—trueboy{at}gmail{dot}com
URL-http://www.trueboy.blogspot.com