a lot of this blog is inspired by this painting: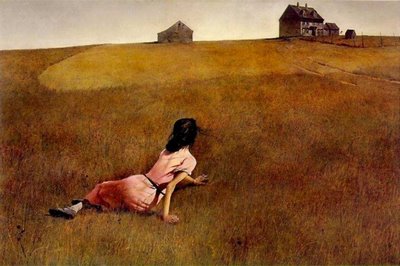 --"Christina's World" by Andrew Wyeth
We had a copy in my house that my moms won in a beauty pagent along with several other prints of the artist's work. I loved them all but i was most fascinated by the girl all alone in a field...what was she doing out there? why was she crawling?
I couldn't take my eyes away from her unusually thin arms and jaundiced skin...
Later on I learned that in real life, Christina was Wyeth's neighbor. She suffered from a disease that was slowly paralyzing her. Hence the innate helplessness of her pose.
She became a frequent subject of Wyeths. I'd think about that and wonder--what was he trying to show us? What did Christina know that we did not? Was there some voyeuristic urge that was being played out by the painter and then the viewer? Was a sadistic subtext the reason that the painting often filled me with such fear--at times so much so that i couldn't bear to be in the room alone with it and i'd run outside where the tree limbs up above me seemed to reverberate with wordless wisdom?
The conclusion i came to was that she was going to die out there. That long, yellow field is as neverending as the sea to someone with arms as puny as hers.
The windows of the stark, clapboard house peered down like indifferent sentries.
Her home was not going to save her:
She was forgotten--cast asunder like trash off a ship--not worth her weight in gold, but worth her own death as one by one her joints froze together like soldered scaffolding...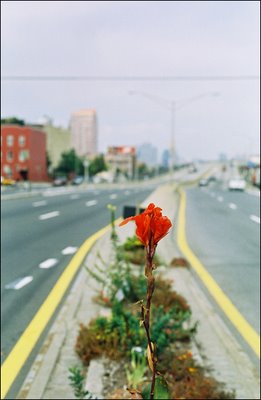 DEAR CHRISTINA,
BRANDTRUEBOY IS COMING TO YR RESCUE.
LOVE,
A GIRL NAMED TRUEBOY.