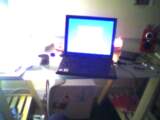 I have an infamous ancestor in England who was hanged for poisoning and killing his good friend, from whom he had borrowed a ton of cash. Four of his five children had also died, for reasons unknown to medicine. My ancestor's servants said he used to have the children line up to lick honey off his fingers every nite.
At the gallows he still proclaimed his innocence.
Sometimes I wonder about the one little boy who survived...how lonely and sad he must have been. But he survived his childhood and went on to have children of his own...who had children...who had children...who...
It all ends with me, tho. Belee dat.