i dont wanna write or think or watch tv or talk to anyone or read or clean or anything. im just gonna smoke some xmas trees and think of u and also the pickup i want to buy.
i like making my own private summertime, with the heat turned up ridiculously high so even with my drafty ass windows i can run around in a tanktop. i can blast music and lift weights. i can pretend that the sun shining thru the skylight is the sun shining thru my sunglasses on the beach.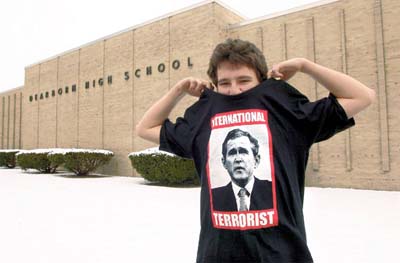 i've put the music on shuffle and it's all soul and eurofag, one-for-one, for what seems like hours, in a defiantly never-ending routine, kinda like a girl going forever on double dutch.
i know it's gonna mess up somewhere, ya know it'll be a country song or hip-hop, or
oh wait. here it is--sonic youth.
how suiting that they are the break in the chain.
tonite im wearing a black glove on my right hand like sterling.
im imagining that im her
with her missing fingers and her tragic past
the several different versions of herself that were unceremoniously killed off
one after another,
chopped down like trees
then strung up like corpses.
i drank all nite
my sunglasses were broken on the kitchen table
there were lighters and drug baggies
and a pan covered with burnt egg..
i looked straight into her eyes for the first time in months.
"oh," she said, as though i'd touched her.
she held my shaky gaze as i imagine she'd hold my hand
if i ever let her...
while i looked, something gave in her eyes,
something i hadn't expected to see.
"what's going to happen, TRUE?" she asked, in that high-pitched, sing-song voice of hers.
"what's going to happen with all these blogs and all these ideas we keep coming up with?"
"i don't know," i said.
i looked up into the hair that covered my eyes.
"i mean, i think i know but then it's one thing to know and another thing entirely to DO. to make HAPPEN."
i took out a blue ball point pen and wrote
the many
across my hand, for no good reason.
"but you wanna hear somethin?" i said, while i still had her attention.
"ok, sure, " she said.
"lookin in yr eyes just now felt like steppin thru a broken window."
"well!" she said, taking her toothpick out to laugh.
"stepping inside from outside or outside from inside?"
"outside from inside," i said.
"ok, i guess that's pretty cool," she said, with apparent satisfaction.