...and kept as a souvenir in my pocket through the rain and the sleet until it turned into a flimsy tissue of disintegrating wax and glue: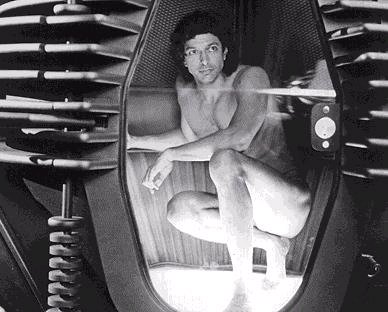 I'm here in Amsterdam's city center. More precisely: I'm at a bar, with my head on the bar.
Same old, same old: A spliff…a shot…a pill…the irrefutable beat to which time marches on...
(within me without me)
All those good people rushing around on bikes and trams at 5PM, hurrying home to dinner…I stare into their faces, wanting desperately to know about their lives—the clean, bright Dutch corners where they read their books and hold their children. Suddenly I realize that I haven't eaten all day and I'm on the verge of passing out. I run into a pita place and tell them to make me one with everything on it, extra spicy, please, and when I bring it to my mouth I'm so hungry that a long string of drool actually lands on the yellow pita bread, like a scene out of the fucking
Fly
or something.
This bar is so cheesy, I love it. All the cocktails are adorned with psychedelic umbrellas and shiny flags. The synthesizer riff in "The Walk" by The Cure is repeated over and over like some hysterical call to black eyeliner arms.
...triangles, spheres, straight lines...a struggle that signifies the magic number itself, split and then doubled in the sky.
www.trueboy.blogspot.com
--a petal scattered retreat where eternal adolescence is lionized and near-obsessive introspection is heralded as an ideal lifestyle choice.
Email me
with your address if you want a copy of the zine that the drunk junkies made of my writing as well as other gift goodies (all of them legal, I promise…do you really think I'm in the mood for some heavy duty felony shit?)
Oh, and it's free, like everything on BRANDTRUEBOY.
Thank-you for your time.
Sincerely,
TRUEBOY.
(The Other Side coffeeshop)